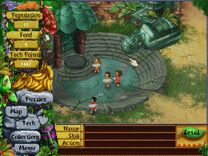 The amphitheater is a location in Virtual Villagers 3: The Secret City. It is located below the mountain rising and is against it. It has the robe the Tribal Chief wears, and is where the robe is located. The amphitheater is where the Tribal Chief does his/her lectures. It is an circle made of stone, and has a place where the robe hangs against the sides of the mountain. It has a small stoned area with faces on it.
Ad blocker interference detected!
Wikia is a free-to-use site that makes money from advertising. We have a modified experience for viewers using ad blockers

Wikia is not accessible if you've made further modifications. Remove the custom ad blocker rule(s) and the page will load as expected.