The Bee Hive is the second puzzle in Virtual Villagers 3: The Secret City.
Requirements
Fire
A villager of at least 14 years of age
Instructions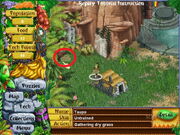 You need to light up a fire to scare the bees away from the hive. To light a fire, you need to collect some firewood located near the seashore. Then, collect some dry grasses on the west, just northwest from the love hut. Then, start up a fire by dragging a villager onto fireplace.
Place the villager onto the torches near the bee hive. They will light the torches in the fire and bring them to the hive. This will scare the bees away, allowing your villagers to have access to the honey.
Success Message
"
Your villagers have cleverly calmed the bees with smoke, so now they will be enjoying delicious honey!
"
Trivia
It's recommended to have at least three villagers to collect the honeys and reach Adept Farmer level for the upcoming puzzles.
---